Requirements Management Software
For Product Management, Business Analysis, Engineering & IT Teams…
Why Use Requirements Management Software?
Does requirements management play an important role in project success? Should you manage requirements using purpose-built requirements management tools, rather than general-purpose tools like Word, Excel, or wikis? Consider what Gartner and CIO Magazine have to say about these questions…

"Requirements management can be simplified if initial requirements definitions are captured in a database-based tool to enable collaborative review… traceability and versioning/change control"
- Matt Light, Research Director, Gartner

"Analysts report that as many as 71% of software projects that fail do so because of poor requirements management, making it the single biggest reason for project failure…"
- Christopher Lindquist, Fixing the Requirements Mess, CIO Magazine
As you can see from the quotes above, poor requirements management is a leading cause of software project delays (and even failures). And a good requirements software can help your team achieve project success – and build more successful products, more efficiently. Check out our blog post Requirements Management Tools Overview for a detailed overview of how you can benefit from requirements tools.
How Requirements Software from Accompa Can Help You
Avoid project delays and failures caused by using general-purpose tools like Word, Excel, or issue trackers to manage your requirements.
Build a systematic requirements management process with cloud-based (SaaS) requirements management software from Accompa and its purpose-built features for managing requirements that help product management, business analysis, engineering, and IT teams at 100s of companies (from Fortune 500s to growing startups).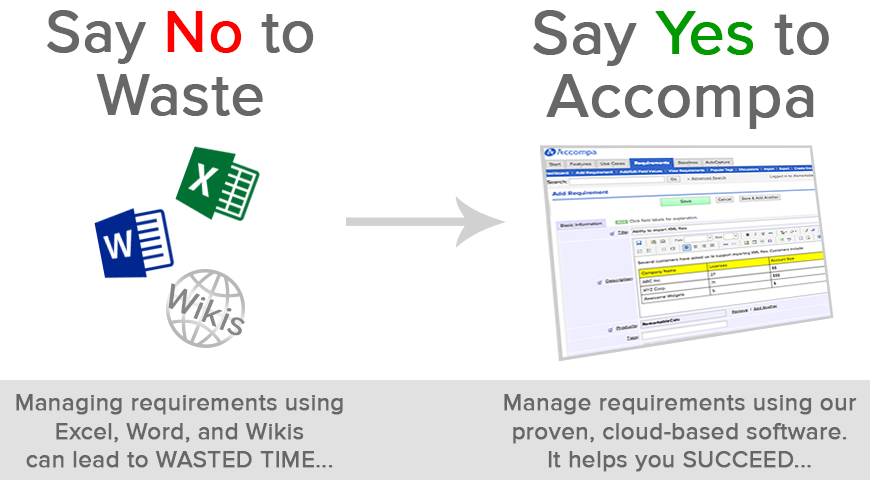 Ready to get started?
Get your 30-day, fully functional FREE trial of Accompa...
Who Uses Accompa Requirements Software
Accompa is used today at hundreds of companies of all sizes (from Fortune-500 companies to growing startups) by:
What You Can Do Using Accompa
Get Accompa and help your team:
Manage requirements in a secure, central repository over the cloud. Access securely from any computer.
Create structured requirements to track requirements attributes that are unique to your organization.
Manage requirements, features & use cases in an efficient fashion, eliminating the hassles of general-purpose tools (such as Word, Excel, issue trackers, and wikis).
Track changes & dependencies automatically – and avoid missed requirements which often lead to project delays and failures.
Automate requirements gathering via custom web forms & email addresses. Gather feature requests from customers and internal teams such as Sales & Support.
Share up-to-date requirements and collaborate using tools such as discussion threads – to avoid incomplete & inaccurate requirements.
Prioritize requirements using systematic methodology – focus your resources on the highest value requirements.
Create consistent requirements documents in just a few clicks using intuitive wizard.
Accompa starts at just $199/month. No installation or maintenance is required – as it's a web-based requirements software delivered using cloud/SaaS model. Click here for your 30-day FREE Trial – you can get started in less than 5 minutes.
From Fortune-500 companies to growing startups, 100s of companies use Accompa every day. Can Accompa help your company too?